DLF, a prominent realty giant, is set to commence construction on a sprawling 25 lakh square feet shopping mall in Gurgaon during this quarter, with an estimated cost of approximately Rs 1,700 crore. This move is in response to the surging demand for high-quality real estate space from retailers.
Currently, DLF boasts a retail footprint spanning around 42 lakh square feet, encompassing nine properties, including malls and shopping centers, predominantly across the Delhi-NCR region. Of this, approximately 3.4 lakh square feet fall under DLF Ltd., with the remainder under DLF Cyber City Developers Ltd. (DCCDL), a joint venture between DLF and Singapore's sovereign wealth fund, GIC.
DLF's Vice Chairman and MD of Rental Business, Sriram Khattar, emphasized the robust revival of the retail sector post-COVID, with significant growth in footfalls and sales in shopping malls. He confirmed plans to commence construction of the Mall of India in Gurgaon in the third quarter of the fiscal year.
Regarding the investment in this upcoming mall, Khattar mentioned that the company already possesses the land historically, while the construction cost is estimated at around Rs 1,700 crore. Additionally, DLF is actively constructing a premium 6 lakh square feet mall in Goa.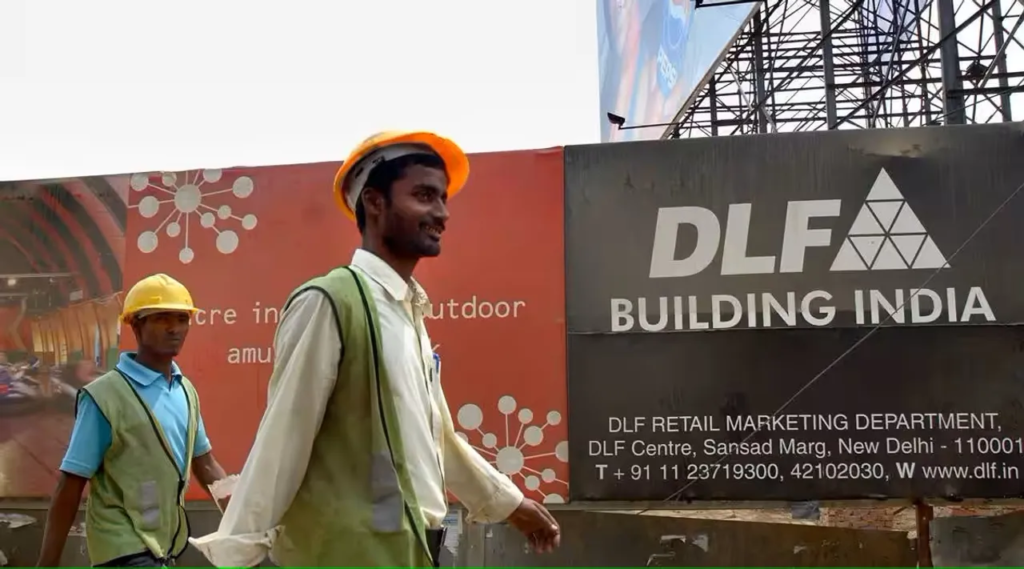 DLF is also developing high-street shopping centers in proximity to its residential projects to cater to the local residents' needs. Ongoing projects include those in DLF Phase 5, Gurgaon, and Moti Nagar, Delhi.
In an investors' presentation for the first quarter of the 2023–24 fiscal year. DLF expressed its commitment to significantly expanding its retail presence. Aiming to double its portfolio within the next 4–5 years. DCCDL's consolidated revenue for the April-June quarter witnessed a year-on-year growth of 12 percent, reaching Rs 1,412 crore, with consolidated profit at Rs 391 crore, marking a 21 percent YoY increase. The retail business contributed Rs 187 crore in revenue during the first quarter of this fiscal year.
At the group level, DLF reported a 12 percent rise in consolidated net profit. Reaching Rs 527 crore in the first quarter of this fiscal. Compared to Rs 469.57 crore in the previous year. Total income marginally increased to Rs 1,521.71 crore during the April–June period of the 2023–24 financial year.
DLF Group's core activities encompass the development and sale of residential properties. As well as the development and leasing of commercial and retail properties. With a rich history of more than 158 real estate projects covering over 340 million square feet. The group boasts an annuity portfolio exceeding 42 million square feet. Moreover, DLF Group holds substantial land banks to develop 215 million square feet across residential and commercial segments.